Interactive Pet Food Dispenser Toy
Regular price $29.99
0
Free & Fast US Delivery

Dispatch in 1-3 Days

Easy 30 Days Return

Secure Payment
Do you worry about your Dog getting bored?
Then our Puzzle Toy Treat Bowl is perfect for you and your Pup!
Just add your pup's favorite dry treat!
Excellent Material: The interactive cat feeder is made of a special material, which is safe, non-toxic, durable and anti-biting. It is 100% safe for all pets.
Healthy Feeding: Through its unique design, the interactive food dispenser slows down feeding and limits the amount of food to help aid with digestion and bloating. You don't need to worry about that the dog will eat too much or too fast any more .
Skid-Proof Design: There is a special skid-proof design at the bottom. The tumbler foundation makes this toy stay in the same place and weaving from side to side to let your dog or cat be in a puzzle about the food. It can help to arouse the appetite of your dogs.
Physical and Mental Stimulation: The dogs have to do more exercise and physical activities to get the treat. The pet ball toys brings your dog fun though healthy play, maintain your dog's physical alertness and stimulate its intelligence.
Quick-Detachable and Easy to Clean: The simple combination of the upper half part and the foundation makes the toy easier to be disassembled and cleaned.


And let the fun begin!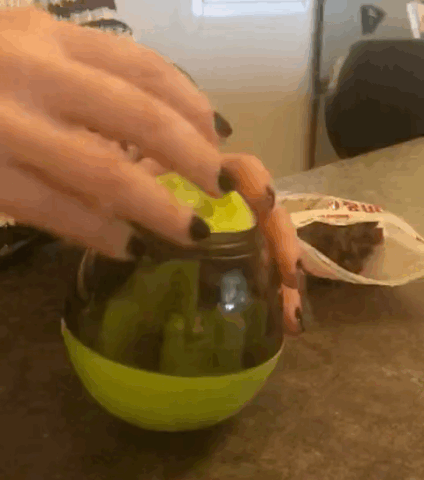 Why we love the Interactive Treat Dispensing Puzzle Toy for Dogs
✔️ reduce boredom
✔️ stimulate your dogs brain
✔️ adds some exercise routine to their home time.
✔️ helps your dog to practice their hunting habits.
✔️ adjustable treat hole for different sizes of treats
✔️ super easy to clean
Related Products
We are working harder for your business success